BAODING, China, Jan. 6, 2023 /PRNewswire/ — On December 30, 2022, GWM unveiled a full range of models such as WEY Lanshan-PHEV, HAVAL H-DOG, POER-Shanhai and TANK500 PHEV (the name of models for Chinese market) at the 20th Guangzhou Auto Show, and also revealed its global layout in the future.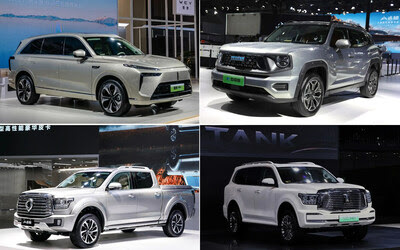 At the exhibition, WEY Lanshan-PHEV, the first flagship six-seat intelligent SUV, made its global debut. WEY Coffee 01, Coffee 02, HAVAL H6 NEV series and HAVAL H-DOG (PHEV) were unveiled. GWM also displayed TANK500 PHEV, a new energy off-road SUV based on the upgraded off-road super hybrid architecture. And GWM ORA series, attracting users' attention from the public with smart functions and stylish design.
POER-Shanhai, the large-scale high-performance luxury pickup, was officially launched, which brought infinite possibilities for an all-scenario pickup driving experience. Zhang Haobao, the CEO of GWM Pickup, revealed this model will consist of HEV and PHEV versions. In the future, GWM Pickup will focus on the layout of new energy products in to global market, and create a matrix of pure electric, hybrid and hydrogen energy pickup trucks. It will strive to be the first-tier group of high-end pickups.
A number of the latest new energy products were displayed, which indicated GWM's a new start to deepen its global strategic layout in 2023, and further explained its vision of driving the low-carbon and intelligent development of the global automobile industry. Empowered by the Forest Ecosystem, GWM has built an advantageous industrial chain in the field of new energy and intelligent technologies. GWM is actively developing hydrogen power technologies, and building a clean energy system based on carbon neutrality that covers hybrid, pure electric and hydrogen energy.
Mu Feng, the President of GWM, pointed out that GWM will continue to accelerate the iteration and upgrading of models with more advanced technologies to fully promote the strategic process of new energy. It will create diversified products according to the needs of different markets and consumers and accurately lay out the global market.
Faced with the accelerated trend of the new energy transformation in the global automobile, GWM released the "ONE GWM" global brand strategy in 2022, and actively participate in global competition. Under the guidance of the new strategy, GWM will continue to be user-oriented, and continuously create different categories of new energy vehicles. It will strive to provide global consumers with an intelligent, personalized and environmentally friendly new travel experience.
According to the "2025 Strategy", GWM will scale its sales proportion of new energy vehicles to 80% by 2025. And it will invest a total of CNY 100 billion in the R&D of new energy and intelligent technologies. GWM will also promote the popularization of green and intelligent travel around the world and accelerate its transformation toward the goal of becoming a global intelligent technology company.